Desktop Aquaponic Tank Part 1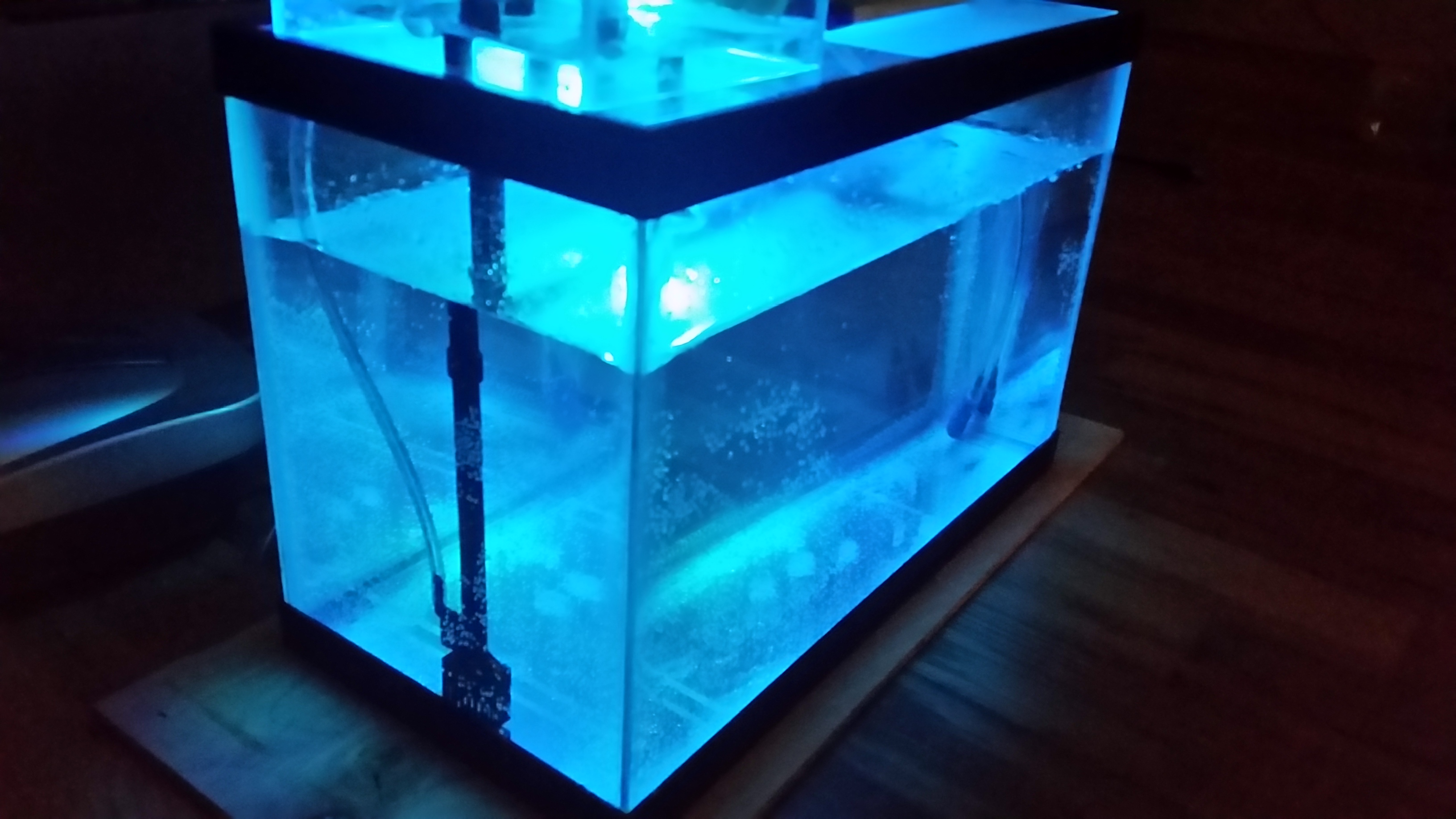 Photo Credit: Keith Knoxsville
I've put together the first operational version of the 2.5 gallon desktop aquaponic tank I'll be working on and experimenting with for a a little while.
My goal was to create an interesting and functional aquaponic system that was compact enough to reside on a desktop, was low cost, and had very little commercial moving parts, so to speak.
The features I wanted were:
Affordable
Small 2.5 Gallons
Capable of growing a 2″ net pot, and some duckweed
3D printed parts
Ebb and flow system utilizing a 3D printed airlift, and 3D printed Bell or U-Siphon
Open and shareable data and design
An Arduino based microcontroller to control tank environment
DIY Heating element (controlled via arduino)
DIY Temperature Control (via arduino)
DIY LED Lighting (controlled via arduino)
DIY Supplemental automatic fish feeder.
Cool looking
My design utilizes acrylic and a little acrylic glue, to create a tank lid and combination filter/grow bed, that measures 3.5″ long by 4″ wide by 3″ tall.
The water is moved above the tank surface into the grow bed/filter by way of a 3D printed airlift and gravel filter, and drains 1/3 of a liter (1.43 cups) every 1 minute and 20 seconds through a 3D printed U Siphon.
I originally made a bell siphon, but it didn't function as consistently as I had hoped. So I decided to 3D print and use a simpler U-Siphon.
The test setup is pretty successful, simple in its use of an airlift, and meets the basic design goals I had. I also started testing out some LED options and the thing is looking pretty cool.
I'll provide clearer pictures of the design in part two. The 3D Print STL files are available below. I'm providing them gratis, but please credit the Gardenisto site. Thanks.

Tags: 3d printed airlift, 3D printed siphon, aquaponics, desktop aquaponics, DIY fishtank
Comments