Backyard Chicken Coop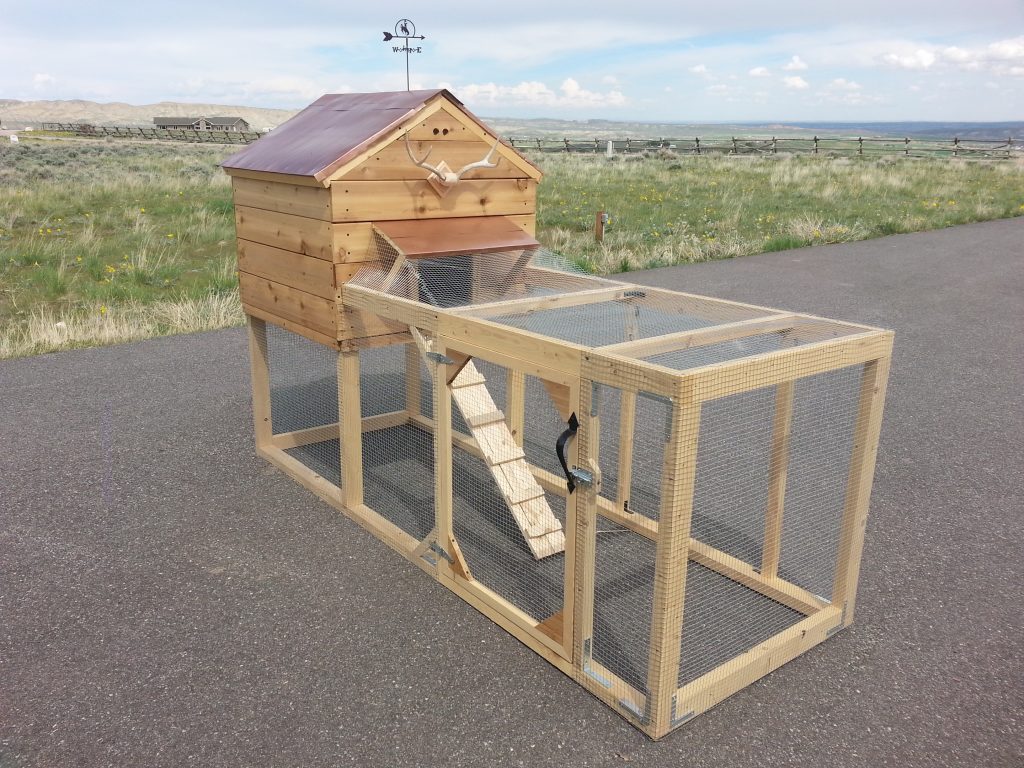 Photo Credit: Keith Knoxsville
Keeping backyard chickens is a growing trend amongst everyday Americans, and for good reasons. Darn cute chicks, that will eventually provide fresh eggs daily! Add to that, the perk of avoiding purchasing lesser quality eggs from the grocery store. Who wouldn't love that?
It's been a few years since we had our own chickens, so we decided to get four little girls of our own with the idea to maybe add a couple more later. We needed a coop, and after looking at a bunch of prebuilt chicken coops that lacked desirable features for insanely high prices, there was no question that we would be building one ourselves.
We've built large coops before, more for utility than looks, but this one would be a bit different. We designed around our needs and desires: mobility, room for 4-8 chickens, easy to clean, safety from predators, ease of access to eggs, and an attractive elevated design.
We sketched out a few design ideas, decided on an appropriate size, a rustic trapper lodge look, complete with simulated copper roofing, buck antler mount, covered porch style entrance, and two box nesting box with hinged roof for external access.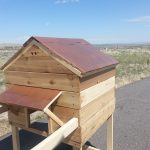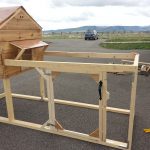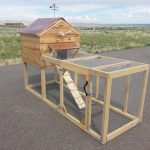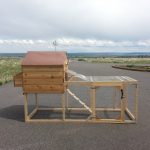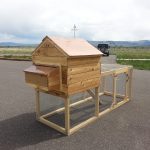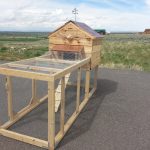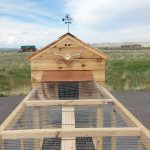 The girls (Meet them in this post) will have an 8 foot by 3 foot run to stretch their legs when they can't free range. The 3 foot tall run is enclosed with 1/2″ hardware cloth.
The coop sits nearly 3 feet off the ground, is framed in 2×3 doug fir, includes an attached elevated nesting box, and conceals a plywood sliding poop tray. The exterior is finished in cedar, and roofed in galvanized metal that has been painted with a hammered copper paint. The front door is trimmed with 1 1/2″ furring strip, the same material that supports the front door awning, and covered with roofing material to match the main part of the coop.
4 1 1/2″ holes were drilled out for ventilation. Ventilation holes were placed in the top of the coop, two holes on each side of the coop, and screened in with a metal mesh to prevent unwanted guests. The vent holes also added an aesthetic touch of realism. The weather vane is a little tribute to Wyoming, and an aesthetic touch.
We did use as much recycled and salvaged material as possible. The galvanized roofing was purchased at a salvage scrap material shop, so were hinges, corner braces, tee braces, door handle, ceramic lamp bulb holder, and a power cable. Nearly everything was in its original packaging, and just a little dusty and aged. Buying materials from a salvage shop not only keeps perfectly good excess building scrap out of landfills, but saved about 75 dollars in chicken coop material costs.
The Chicken Coop Trapper Lodge cost less to build than the commercial offerings, fits our needs, and has the aesthetics we desired. Some items, like heavier 1/2″ hardware cloth were more expensive than cheaper poultry wire, but provide superior protection for our girls, and so we determined it was worth the spend.
We will probably add an electric wire perimeter, that cuts off when the door to the run is open, to prevent an accidental shock to the chickens, and provide added security against our local predators: snakes, coyotes, mink, fox, stray animals, and Racoons.
Tags: backyard chickens, Chicken Coop
Comments