Nightstand Plant Stand From Pallets
The Gardenisto | April 27, 2015
I recently set up another 5 gal hydroponic bucket for growing herbs and greens. I wanted to grow them in the dining room under a sunny window, and needed to dress up the 5 gallon bucket so that it wouldn't be an eyesore. So I decided to build a dual purpose nightstand and plant stand in one.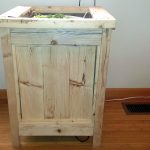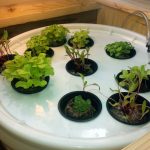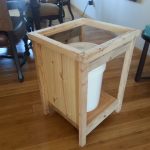 I didn't want to spend money on lumber to build the plant stand, so I did what everyone else on the interwebs does, and built it from pallets. However, unlike many people who simply stack pallets or use pallets as is, I carefully removed the nails, and thoroughly inspected every piece of lumber before ripping every piece. I was very careful not rip too far under the weathered and expose wood, and was able to maintain the rustic colors, nail rust, oxidation, and character of old wood, whilst getting straight, and clean edged lumber in reasonable dimensions to work with. The end result is a rustic looking, and functional, dual-purpose night stand(when no hydroponic bucket is present), and hydroponics plant stand in one.
Check out the photos, enlarge them by clicking on them, and you'll see the build process, the plants, and the completed stand. Hope it motivates some of you to try hydroponics, and know you don't have to stair at ugly buckets.
Tags: hydroponics, plantstand, woodworkiing
Comments