Coturnix Quail Hutch
The Gardenisto | July 18, 2015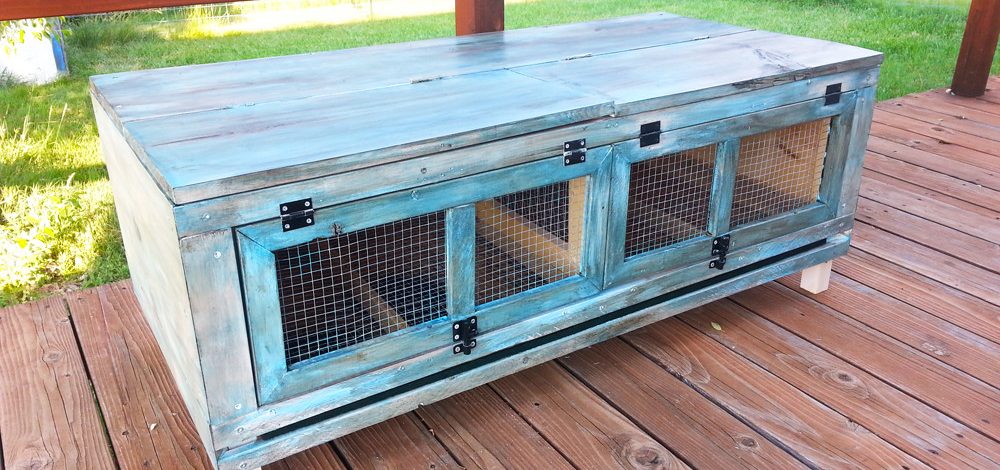 I had been planning on keeping quail for a while. After some consideration of breeds, I finally decided on Coturnix quail, and stuck a few eggs in the incubator. The count down had begun. I had between 14 and 26 days at the earliest and latest extremes to build a quail hutch. Like all the wood working I do, I try to take pride in my work. I wanted to build something that was attractive, and highly functional.
I decided two build a two compartment coffee table and quail hutch combo, appropriate for breeding quail, and keeping males separated.
The hutch includes the following features:
Vintage, antiqued two compartment coffee table design.
A sturdy and durable design. Yes you can sit on it, have coffee on it, etc.
A foot print of 4′ x 2′, with a separator for each half.
Hideaway bench seat style doors on top, taking up half the length of each of the two compartments.
2 front doors, screened in with 1/2″ hardware cloth.
Secure latches all around.
1/2″ hardware cloth floor, with a sliding poop tray.
Wiring with 2 ceramic bulb sockets. Allows for brooding, as well as heating in cold winters.
So far, the few quail we hatched love their home, and so do I. Its dual purpose, meets our needs, and functions as quality outdoor furniture. Its the kind of thing that the significant other doesn't mind looking at everyday. I hope this helps you with your own quail Hutch build. If anyone is interested in owning one, I would consider drafting plans. I'd really like to do what I can to help out fellow friends, preppers, homesteaders, and backyard poultry keepers.
Tags: backyard chickens, diy, How To, poultry, quail, quail hutch, quail pen, woodworking
Comments