DIY Plant Tissue Culture Intro
The Gardenisto | April 14, 2014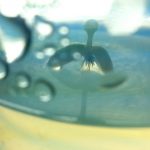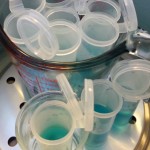 We set up the plant lab to do micro-propagation, a.k.a plant tissue culture, or in vitro propagation, at the beginning of 2014. We have made batches of growing media, adjusted recipes, and tested a couple controls.
Our DIY plant tissue culture materials were sourced from a bunch of different places. A few items we had on hand, but most of the items were ordered online or bought in everyday stores. Our initial tools and equipment list was as follows.
Initial Equipment List:
25 1.5oz lab grade vials (ordered online) – 15
Clear Sterilite CD case to hold vials – 2
6 Quart Presto Pressure Cooker – 43
Talyor Digital Food Scale – 26
Stainless Steel Forceps – 3
100ml Beaker – 0
3.0 ml pipettes – 0
Lab Grade Agar Packet – 5
Pyrex 2 Cup Measuring Cup – 5
Sugar – 0
Liquid Fertilizer with Macro and Micro Nutrients – 4
All Natural Coconut Water – 2.50
Additional Supplies for Improvements:
3-10mg Micro Scoops
Citric Acid
PH Test Strips
70mm 400 Autoclavable Jar Lids
RTV High Temp Silicone Gasket Maker/Sealer
Cellulose .2um Synthetic Filter Disks (various sizes from 29mm disks to 70mm disks)
Rooting Hormone IBA
Half Pint, or Baby food jars with a 70mm 400 lip (standard Ball or Kerr lids)
Bleach
Hydrogen Peroxide
A spray bottle
Hobby knife blades
The initial cost of materials was just over 100 dollars. Additional supplies that improved success rates increased the the cost by about 30 dollars. Some additional components listed aren't necessary, but are nice to have.
A lot of kits sold online will cost as much or more, and still require components like scales, an autoclave or a pressure cooker. So we are pretty content to be able to do successful tissue cultures for less than 150 dollars worth of equipment.
Comments