Elk Meatball Pho Soup
The Gardenisto | March 2, 2015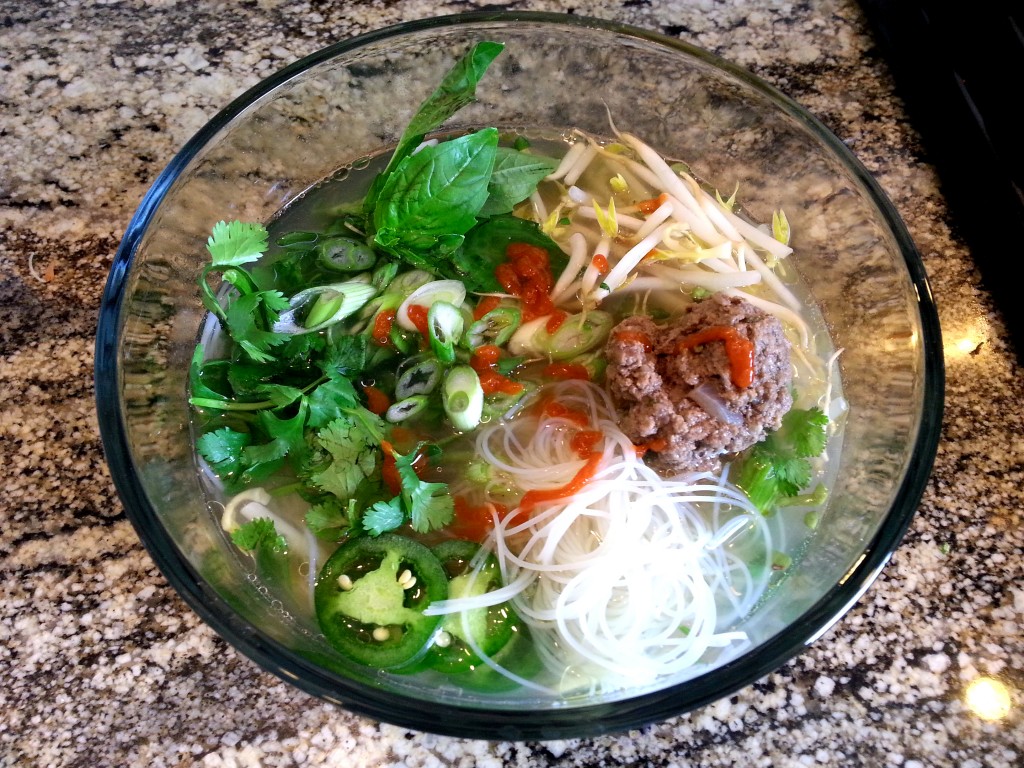 Elk meatball pho soup is an improvised wild game version of the classic Vietnamese Pho noodle soup. Total preparation and cooking time is about 3 hours, but this is mostly because of the long simmer to make a quality soup stock.
Servings: 6
Cook Time: 3 Hours
Prep Time: 30 Minutes
Ingredients
Basil – 1 bunch (Thai variety if availabe to you)
Mint – 1 bunch
Cilantro – 1 bunch
Jalapenos – 2 small ones
Green Onions – 1 bunch
Limes – 1 to 2
Ginger – 2 palm sized pieces
Bean Sprouts – 1 lbs. (mung bean)
Onion – 1 small onion
Garlic – 3 large cloves
Star Anise – 5 pods
Cinnamon – 2 large sticks
Cloves – 5 (optional)
Red Pepper Flake – 1/2 teaspoon
Black Pepper – 1 teaspoon + a pinch.
Salt – 2 to 6 tablespoons of salt
Sugar – 2 to 6 tablespoons
Two Femur Bones (We used Beef bones, but others will work)
Ground Elk – 1-2 lbs.
Rice Noodles 1- 8 to 12 ounces dry weight
Fish Sauce – Used to finish while serving
Chili Sauce – Used to finish while serving
Hoisin Sauce – Used to finish while serving
Instructions
Stock:
Fill large stock pot with 7-8 quarts of water. This will be the broth, so use a quality filtered water.
Add two large femur bones 4-5 inches in length.
Slice the two pieces of ginger, add to stock pot.
Slice 3/4 of an onion, into about 8 pieces, add to stock pot.
Add 5 pods of star anise.
Add 5 cloves.
Add 2 large sticks of cinnamon.
Add 3 large cloves of garlic, crushed.
Add 2 tablespoons of Salt.
Add 2 tablespoons of sugar.
Add 1 teaspoon fresh cracked black pepper
Bring entire stock pot to a light boil. Let boil for up to 3 hours.
Keep stock pot mostly covered, but be careful to avoid boil overs.
After the femur bones have boiled for a while, and its safe to do so, sample the broth, and add more salt if necessary.
Check stock pot frequently, and add filtered water back to the stock as it reduces.
Adjust any ingredients during the boil to enhance any flavors to your personal preference.
At 2 hours into boil, prep Meatballs
Meatballs:
Finely chop 1/4 of an onion, add to mixing bowl.
Finely chop 1/8 cup cilantro, add to mixing bowl.
Finely chop 1/8 cup basil, add to mixing bowl.
Add a pinch of salt and black pepper.
Add 1/2 teaspoon of red pepper flake.
Add 1 to 2 lbs ground Elk to mixing bowl. (or substitute with meat of your choice)
Mix with hands, until ingredients are consistently distributed.
At 2.25 hours into boil skim broth.
Remove femur bones, large particles of ginger, and sieve out all smaller ingredients, as well as marrow that has escaped from the femur bones that cloud broth and build at the surface.
At 2.5 hours into boil, form and cook meatballs, prepare rice noodles.
Form meatballs by hand, and add to the now clear(ish) pho stock.
Bring water in a separate large sauce pan to a boil, add rice noodles to hot water ad let sit for ten minutes, then drain. This is typical preparation for a rice noodle, but some noodle instructions may differ, so follow your own noodle package instructions.
Right before serving, prepare garnishes
Garnish:
Slice Jalapenos
Rinse Basil, Cilantro, and Bean Sprouts
Slice lime into wedges
Rinse and slice a couple green onions into small rings
Get Chili sauce, fish sauce, and Hoison sauce ready to serve
Plate all garnishes
Serve
Meatballs should become buoyant right around the time that they are finished. As soon as the meatballs are cooked all the way through, the pho is ready for serving. Line up some bowls, use tongs to place cooked noodles into the bottom of the bowl. Ladle broth and meatballs over the noodles. Tear cilantro, mint, and basil by hand, and add to your pho in any quantities that you feel appropriate. Squeeze lime wedges, add chili sauce, maybe a few drops of fish sauce, add Hoisin sauce, jalapenos, green onion, and bean sprouts. Add only what you want, and the amounts you prefer, and enjoy.
Tags: catch, clean, cook, elk recipe, game recipes, pho
Comments