Prickly Pink Lemonade
The Gardenisto | April 26, 2012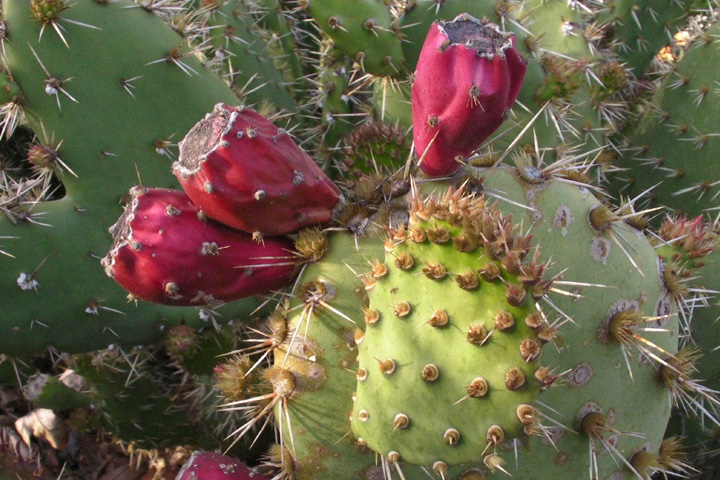 Its a tasty and colorful lemonade, spiked with the syrup of fresh prickly pear cactus fruit!We've given this native and abundant Southern California cactus fruit a new role as a refreshing summer drink.
Step 1
Carefully pick 3-4 four medium sized cactus fruit per desired serving of lemonade. The spines are incredibly prickly, hence the name. Be very cautious when handling. The micro sized spines on the fruit, can easily get under the skin and hurt like fiberglass. Avoid this by using heavy leather gloves, and removing spine son the fruit by rubbing over lawn or grass. It may sound primitive, but its incredible effective.
Step 2
After fruit spines have been removed, wash thoroughly, the peel the thick skin off the fruit. This fruit is colorful, and it stains, so wear an apron or unwanted t-shirt when preparing the fruit.
Step 3
Crush the fruit with a potato masher, then simmer the cactus fruit in a splash of water. The water helps to conduct heat and break down the cactus fruit.
Step 4
Simmer the mixture until it has broken down into a compote.
Step 5
Pour the compote through a sieve, to extract only the syrup.
Step 6
Add syrup to the lemonade of your choice.
In our example(see photos), we poured the prickly pear cactus fruit syrup over ice, topped with fresh squeezed lemonade, and then dressed it with a sprig of mint.
Enjoy the fantastic flavor and incredible color. Cheers!
Tags: cactus, cocktail, forage, mocktail, recipe, summer, wild edible