Purslane, Verdolagas, Pigweed
The Gardenisto | April 14, 2013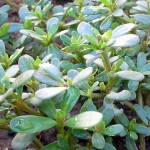 A lot of the summers of my youth were spent in Mexico, on my grandparents ranching lands. I learned all about the local vegetation and agriculture, before many companies like Driscoll's entered the small agricultural communities to expand their berry growing endeavors with cheaper Mexican property and labor.
Anyways, I spent some days picking odd fruits off of trees, Choyote off of vines, Pitayas off of cacti, Mexican Cucumbers from wild low lying vines, and various other edible pants from fields and vegetation.
I have a lot of memories scavenging for Verdolagas, which I was quite fond of. Fast forward a couple decades to the beginning of last year, when I decided I'd like to grow some Verdolagas. I asked Grandma Google for "Verdolaga Seeds" and quickly got some suggestions for an English name: Purslane, Pigweed, Portulaca Oleracea.
I did a little more searching and reading, and was shocked when I read that this delicious little gift from the plant gods was often considered and exotic weed. "Whatever!" I thought to myself, "the world just doesn't know what they are missing". I scavenged local areas, and found the tasty little weed growing out of sidewalks and poorly maintained yards, but unsure of the chemical treatment those weeds had likely received, I decided to find a plant or seeds online.
It wasn't more than a week or two later that I saw Purslane greens at the local farmers market, but they were chopped greens, and weren't viable to plant. And then came the media bomb! Dr. Oz did a segment on super foods, in which he talked about the benefits of Purslane.
My beloved little weed was all of the sudden, a mainstream super food. Even the price of the limp Purslane Greens at the farmers market had instantly skyrocketed.
I did eventually get a hold of some good organic seed, so we now have some healthy Purslane growing at Gardenisto.
Call it what you want: super food, exotic weed, Verdolagas, Pigweed, or Purslane. With the endorsement of Dr. Oz on my side, if you haven't tried this delectable little weed, give it a shot.
Tags: Purslane, Super Foods, Verdolagas
Comments