IncrEdible Color
The Gardenisto | April 13, 2012
Garden vegetables don't have to be green and boring.  The right selection of plants can produce vibrant edible color.  Check out our suggestions for some fresh ideas on colorful veggie fare.
Amaranth: (Amaranthus Caudatus,generically known as Love Lies Bleeding pictured on homepage) Amaranth is a flower ranging from gold to red to purple, with edible leaves and seeds.  The seeds are also a gluten free psuedograin.
Beans: Purple Podded Pole Bean, Swiss Heirloom, Velour Dwarf Purple French Bean Bush, Homer Nelson Family Pink Tip Half Runner Bean, Mosaic Yard Long Bean, Swiss Landfrauen, Purple Italian Marconi Stringless, Cascade Giant Pole Snap Bean, Cosse Violette Pole Bean.
Cabbage: Purple Cabbage, Red Cabbage
Carrots: Selective breeding can produce a plethora of carrot colors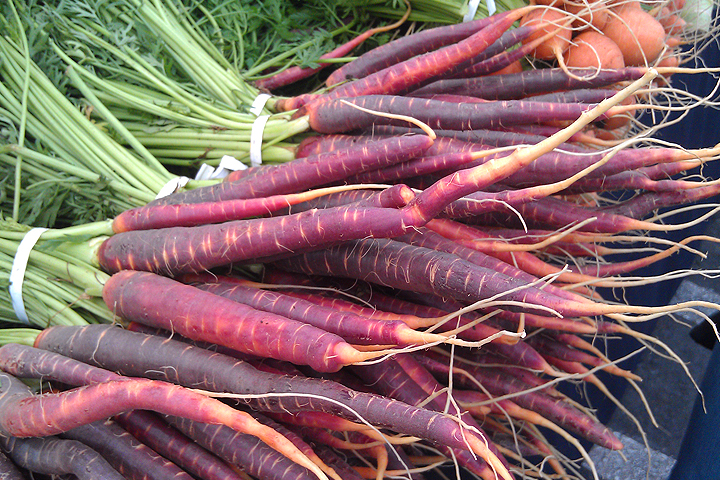 Chard: Chard is available in a variety of colors, ranging from yellow, to orange, red, and purple. It's aesthetic both in the garden, and on a plate.
Corn: White, Silver, Bicolor, Ruby, Pink Blue, Red, Black, and Streaked.  The hybrids and varieties are nearly endless.
Garlic: Heirloom Garlic has a white with a purple ombre
Kale: Purple Kale
Lettuce: Red Leaf, Red Frilled, Belgium Endive
Okra: Red and Burgundy Varieties
Peppers: Bell Peppers, Pri Pri, Thai, Tabasco, Habanero, Cubanelle, Scotch Bonnet, Datil
Potato: Rasalind, Blue Swede, redskin
Radish: A lot of varieties offer different shades of color, and slice patterns. Interesting varieties include: Bunny Tail, Plum Purple, Watermelon, and Daikon.
Squash: Yellow Summer Squash, Yellow Crookneck.
Tomatoes: Yeah, we know! Botanically they ARE fruits, but we usually treat them like veggies so they make our list.  Tomatoes exist in a lot of hybrid, heirloom, and modified varieties.  They introduce bright colors, unique shapes, and a range of sizes into your garden fare.  Looking for a more unique or aesthetic variety?  Try and find some Black Sea Man, Snow White Cherry, Yellow Pear, Ida Gold, Black Krim, or Garden Peach.
Tags: Gardens, heirloom, vegetables, veggies
Comments