Kale Chips
The Gardenisto | March 25, 2012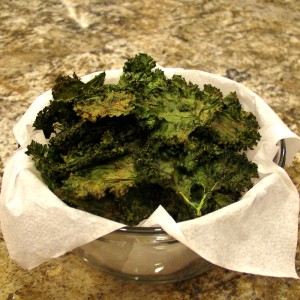 Preparation Time: 10 minutes
Baking Time: 7-10 minutes
Use Purple, Curly, Black (Dinosaur), or your other favorite type of Kale.
1 tbsp Olive Oil (A little goes a long way!)
1 tbsp Garlic Powder
1 tbsp Mustard Powder
1/2 tsp Cayenne Pepper
1/2 tsp Fresh Cracked Black Pepper
1/2 tsp Salt
Preheat oven to 325 degrees.
Wash, and thoroughly dry Kale. Any water left on the Kale will prevent the chip from getting nice and crispy. Tear kale into bite sized pieces, think potato chip size. Place in a large mixing bowl and lightly, but evenly coat Kale with olive oil.
Mix Seasonings in a small bowl. Use salt sparingly! It can become overpowering on the baked kale chip. Pour mixed seasonings over the bowl of kale. Hand mix and/or toss, to evenly coat seasonings onto kale chips.
Place kale chips on a cooking sheet. The chips will shrink while baking, so it is not necessary to leave space between each piece. You do not want to overlap pieces though because the chip will steam and not become crispy.
Monitor the kale chips as the cooking time will vary with the type of kale, size of chips, and the amount of moisture present in the kale. They should take 7-10 minutes, or until the center of each chip is crispy.
Tags: kale chips