Kale and Artichoke Dip
The Gardenisto | March 26, 2012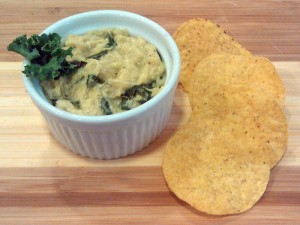 1 1/2 cups of Early Curled Siberian Kale, coarsely chopped
1/2 medium Sweet Onion, chopped
2 medium sized cloves of Garlic, chopped
1 cup quartered Artichoke hearts
A couple tbsp Extra Virgin Olive Oil
3/4 cup Irish Dubliner Cheese
1/4 cup of Milk
Salt
Fresh Ground Black Pepper
Directions:
Saute Kale, Onion, Garlic, and Artichoke hearts in Olive Oil until kale is wilted and onions are translucent. Add salt and pepper to taste.
Blend the kale mixture in a food processor.  Mixture should be coarsely blended.
In a small sauce pan on low heat add the cheese and milk. Stir frequently until cheese is melted.
Stir the kale mixture into the melted cheese until well combined. Transfer to a bowl and serve with your favorite chips or crackers. Enjoy your Siberian Kale and artichoke dip.
Tags: appetizers, artichoke dip, kale, siberian kale